Syyskoulutuspäivien ohjelma
We cover Syyskoulutuspäivien ohjelma 2023 and will keep you posted with MEDtalks, abstracts and articles from September 28th.
While we wait..
See the latest news, read articles and watch MEDtalks within hematology
BestPractice Nordic | Congress coverage 2023
International medical congresses showcase the latest research and clinical expertise. They provide doctors with the latest within their field. In addition, congresses provide an opportunity to meet colleagues, network and discuss the latest research and how it will effect the clinical practice.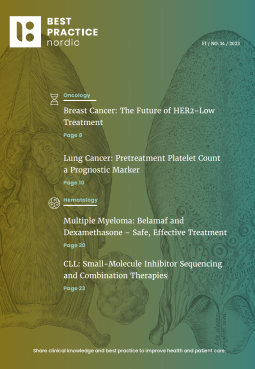 Oncology / Hematology • No. 14 • 2023
Breast Cancer: The Future of HER2-Low Treatment
Lung Cancer: Pretreatment Platelet Count a Prognostic Marker
Multiple Myeloma: Belamaf and Dexamethasone – Safe, Effective Treatment
CLL: Small-Molecule Inhibitor Sequencing and Combination Therapies
Get access