Share clinical knowledge & best practice to improve health & patient care
BestPractice Nordic works to improve public health and patient treatment through dialogue and dissemination of best practice between doctors and healthcare professionals.
Get access
Latest publication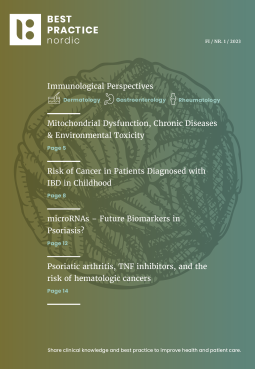 Dermatology, Gastroenterology, Rheumatology • Nr. 01 • 2023
Mitochondrial Dysfunction and Chronic Diseases
Risk of Cancer in Patients Diagnosed with IBD in Childhood
Uncovering the Immune Cellular Phenotypes of Psoriatic Arthritis
microRNAs – Future Biomarkers in Psoriasis?
Get access
Order the BestPractice Nordic magazine directly to your address for free.
Register and update you profile here.
We cover the most interesting news from the ECCO Congress through abstracts, online articles and MEDtalk videos from experts and specialists worldwide.
See more here
Don't miss out on the newest findings and news in your area of expertise
Sign up as a user, and receive the newest articles, MEDtalks and magazines directly in your inbox.
Sign up
MEDtalk: Experts talk about the latest research in the fields of oncology, hematology and rheumatology